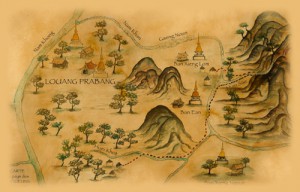 Follow in the footsteps of a true explorer
The Following is a historical background of the site of the new Shangri-Lao Classic Explorer Camp and its breathtaking surroundings.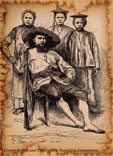 The end of the 19th century was a time when the region of Indochina was explored by several expeditions for different reasons. In September 1882 a French man Dr. P. Neis, was requested by the Minister of Public Education of France, to complete a scientific mission to survey the 'Moi Tribes' who lived in one of France's first colonies named 'Cochinchina.'
Upon arrival in Singapore, Dr. Neis received a letter from the governor of Cochinchina stating that there was a much greater, perhaps politically vital, interest in finding out what was happening in the territories between Luang Prabang and Tonkin due to problems that had erupted between French soldiers and Chinese Haw bandits.
Dr. Neis, therefore, sailed up the Mekong leaving on 23 December 1882, from Kratie near Phnom Phen, Cambodia.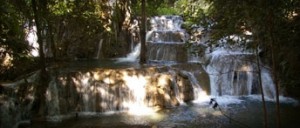 Dr. Neis's adventure included a stay of eight months in Luang Prabang.  He used this time to explore the area around the town including the Nam Khan River up to the village of Xieng Ngeun, which is located 24 km to the south.  On 11 October 1883, he left Luang Phabang on a local boat to make his survey of the Nam Khan River.  Two weeks later, he reached the Nam Sae (Huay Sae stream).
The Shangri-Lao Classic Explorer Camp is located just 3 km downstream from Xieng Lom Village and it is believed that this location is the same that Dr. Neis chose for his own camp in 1883.
Our expeditions from the Shangri-Lao Classic Explorer Camp to the Nam Khan River, or the 'Shangri Khot' camp, follow the same route through the Huay Sae stream that Dr. Neis explored over 130 years ago.